Risco Tour
[back to sports > hiking]
[to the photo gallery]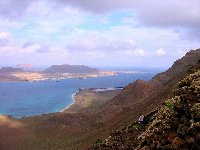 The hike from Ye to Famara (or the other way around) is probably one of the most beautiful things that Lanzarote has to offer.
You have fantastic views over the Risco, La Graciosa and the other small islands, as well as the bay of Famara; these are perspectives that one hasn"t seen before.
One begins in Ye, from the little street that leads up to Mirador del Rio on the left hand side. First there is a steep descent almost down to Playa del Risco, but before that you take a left. The path is for the most part excellent for hiking, and there are two short passages where you need to climb.
For the entire distance, one must calculate approx. 5 hours of pure hiking time, plus breaks. One must be a good hiker and have good shoes, since there are several places with detritus. It is not recommended for hot summer days, but then it"s much more beautiful there in the winter. Bring enough to drink on the way! (There are no kiosks on the way ;)
One can also hike the same path in the opposite direction, from Famara to Ye, it doesn"t really matter, except at the end you then have the steep incline up to Ye.
[back to sports > hiking]
[to the photo gallery]
Information Lanzarote: