Traditional Sailing in Lanzarote
back to
Sports > Sailing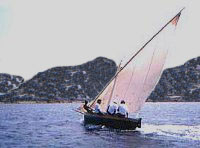 Latin sailboat
Today, sailing with the traditional sailboats from the Canary Islands, called
Vela Latina
, is experiencing a revival in Lanzarote.
Arrecife and Playa Blanca, but also Coralejo and Puerto Rosario on Fuerteventura are today the strongholds of these sailboats that originally came from the Mediterranean.
Adapted for rough conditions such as the trade winds and the corresponding waves, these wooden boats, which originally were 5 to 5 1/2 meters long, today measure 6 1/2 meters, and some are even over 8 meters long, with a sailing surface of ~ 13m2. The Latino sail is attached to a yard-like structure, without a fore sail and on a very short mast.
The crew of such a boat consists of eight, sometimes up to ten sailors. When turning, they have their hands full getting the asymmetrical rig to the other bow. But simply for reasons of stability, it is good to have another person or two sitting on the railing.
These boats were originally used as fishing boats around the coast of the island, but during the course of the last century they were increasingly replaced by machine-driven boats. Then, in the eighties, the sport of sailing these original sailboats was again promoted, not only by the government of the island, but also for example by the Club Nautico in Arrecife.
Today one can experience enthusiastic regatta events with almost "high tech" latino sailboats, and the owners do not hesitate to put advertising on their sails, as is common in the regatta sports of today.
Information Lanzarote: