Beaches Southeast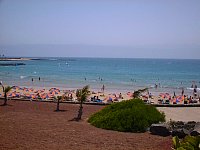 Costa Teguise
There are a few beaches at the Costa Teguise, such as Playa del Charco, Playa de las Cucharas and Playa Bastian. As in most tourist places, all comforts and amenities that you may desire are available around the beaches.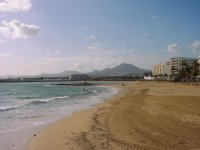 Playa Reducto
Playa Reducto, located in front of Arrecife, is very popular among the inhabitants of the capital. But it is also very well suited for taking a break (for example from shopping), since the beach is lined with a promenade with many bars and restaurants where one can sit and relax.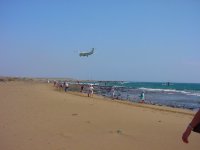 Playa Honda / Playa Guazimeta
The entire southern coastal section is almost one endless beach. It begins at Playa Honda, with its lovely beach and where there are a few nice tapas bars on the promenade. It continues to Playa de Guazimeta along the airport all the way to the large beaches of Puerto del Carmen.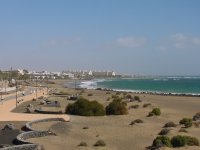 Puerto del Carmen
There are many large natural beaches in front of Puerto del Carmen, which is the largest tourist place on the island. The promenade runs for several kilometers and provides numerous possibilities for relaxing, shopping, etc. You will, however, notice that you are not quite alone here.
Information Lanzarote: