Sports Cycling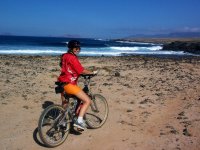 Lanzarote is excellently suited for cycling, both with racing cycles and mountain bikes. Mountains that are over 600 m high leave nothing more to be desired, and on the tours here you often have breathtaking panoramic views of the island and the ocean.
Especially mountain biking fans can here look forward to many still undiscovered dirt roads,
… and last, but not least, an Ironman is held here annually with a 180 km cycling route.
ironmanlanzarote.com
Bike Station Costa Teguise
Rent - Tours - Repair - Service
Centro Commercial Maretas (Nähe Post)
Las Maretas 20, Costa Teguise
Tel.: +34 628 102177
http://bike.tunera.net
Megafun Lanzarote
Renting of Mountainbikes
CC./ Costa Mar,
Tel.: (+34) 928 512893
35510 Puerto del Carmen
www.megafun-lanzarote.com
Rent and by bikes:
CicloMania
c/Almirante Boado Endeiza, 9
35500 Arrecife de Lanzarote
(diagonally opposite of the new Grand-Hotel)
Tel: (34) 928.81.75.35
Planet Bikes
Mountainbikin in Lanzarote
Calle Libertad, 39
35572 Tias
Tel. +34 928 17 36 22
www.planet-bikes.de
Private Homepage
with suggestions for bike-tours on Lanzarote
www.lhp.online.de/0lanzarote/touren
Another private homepage
with suggestions for bike-tours
udo.weisner.bei.t-online.de
Information Lanzarote: