Naturist beach Charco del Palo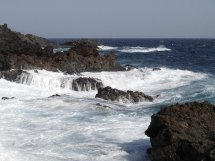 Waves on the cliffs
Wild coast
With its nude beach, the little bathing resort Charco del Palo is located directly on the Atlantic coast in the northwest part of the island. Here, the coast is very, very beautiful. Black lava rocks, the sun and the ocean here create a unique landscape - a totally different nude beach!
Beauties on the beach
Protected coves to swim in
The Ocean swell breaks against the cliffs at Charco del Palo with ferocious power. And yet there are three protected and secure places where one can get into the water.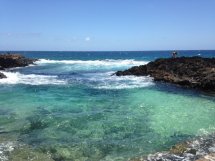 Bathtub
Naturism, nude bathing
Especially the so-called bathtub, a tidal pool which fills and empties with the tide, is a popular place to go swimming and to enjoy the sun. It practically invites you to be without clothes. You can get some impressions of the ocean and of the nude beach Charco del Palo by taking a look at our little
photo gallery
At the beach the people are used to bath and to sunbath naked, in the streets most people already go clothed, and inside the supermarket and the restaurants everybody is clothed! Inside your apartment complex of course it´s absolutely up to you how to handle this.
Apartments in Charco del Palo
Information Lanzarote: