Market days in Lanzarote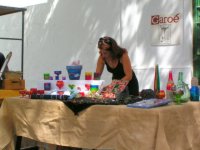 On Saturdays in Haria
The Saturday market in Haria is purely a handicraft market and all stall owners produce the goods they sell themselves. It has a great atmosphere!
Time: Saturdays 9 am - 2 pm
Here, a small
photo gallery of the Haria market
On Sundays in Teguise
This is the largest and most well-known market in Lanzarote. No holiday on the island is complete without the obligatory Teguise market. This is probably the largest weekly congregation of people on the island.
Time: Sundays 9 am - 2 pm
On Wednesdays in Arrecife
On Avenida del Mar, directly at the beach promenade where also the Calle Real (a pedestrian area) begins. Here you find many sellers who are also at the Teguise market on Sundays.
Time: Wednesdays 9 am - 2 pm
Fridays in Costa Teguise
On Plaza Pueblo Marinero in Costa Teguise there is a small market where one also finds many of the sellers from the Sunday market in Teguise, but here they are in a very nice atmosphere with a lot of bars and restaurants. Visiting this small market is a pleasant way to spend Friday evening.
Time: Fridays 6 pm - 10 pm
Information Lanzarote: