Sports Gocarting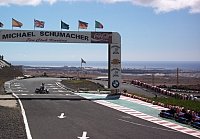 As at every holiday resort, gocarting is of course something that is offered to the tourists in Lanzarote.
Two very different cart tracks are available in Lanzarote:
Puerto del Carmen
Access from the airport (Arrecife) in the direction of Puerto del Carmen, marked with signs on the right hand side.
New cart track, stop and go course and 90° curves, not very challenging, but on the other hand it is a long course and a very beautiful facility. Also, it has lap times on a large display.
www.vista-lanzarote.com/gran_karting/go_karting_d
San Bartolomé
On the road from Arrecife (or Playa Honda) to San Bartolomé, directly at one of the two roundabouts, marked with signposts.
Small but very interesting track with characteristic curves and many uphill and downhill passages. Somewhat difficult for heavy people, but it is nevertheless great fun. Very inexpensive!!!
www.lanzarote.com/go-karting/
Information Lanzarote: