Excursions Mirador del Rio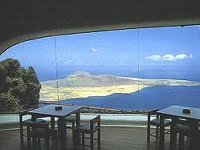 An excursion to
Mirador del Rio
is always worthwhile. One does not even have to be following the tracks of Cesár Manrique (the builder) in order to enjoy this place.
Located on one of the most beautiful vantage points on the Risco de Famara, one has a fantastic view of the neighboring island La Graciosa and the smaller islands of Montaña Clara, Alegranza and the little rock Roque del Oeste.
Here, like in a cave, Manrique has created a light-flooded space which almost naturally rises up over the mighty Risco de Famara. Enjoy the grandiose view over a cup of coffee and a piece of cake.
From the terrace one can see the lonely Playa del Risco almost 500 m straight down. The panoramic view stretches from the Fire Mountains in southern Lanzarote to the little lighthouse Punta Fariones, the northern most point on the island.
In spite of the many tourists that one always encounters there, a visit at the Mirador remains an unforgettable experience.
Information Lanzarote: