Excursions Fundación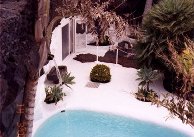 The Fundación Cesár Manrique is a stately building. It seems it was once built my Manrique as his residence, but it is doubtful if he ever lived there.
Built on five subterranean lava air bubbles, which are connected with the main house through passages and stairways, the building contains a small museum with works by Manrique. At the same time it is a piece of architecture as an end to itself - something that characterizes many of Manriques" works.
Cesár Manrique has found many interesting solutions to details when integrating his architecture into the surroundings, which consist of a lava flow from the Fire Mountains to Puerto Naos, which came into existence during the 17th and 18th century.
If one is interested in architecture or in the builder, paying a visit to the Fundación is a must. One can very clearly imagine how Cesár received and entertained his guests here, in the building itself, in the lava bubble that was designed as a drawing room, and in the impressive subterranean patio with its swimming pool (see photo).
Information Lanzarote: