Excursions La Graciosa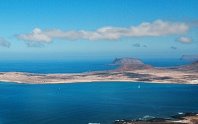 La Graciosa, the small island that neighbors Lanzarote, is a special jewel, and the name La Graciosa also means "the graceful one".
The island does lie gracefully at your feet when you see it from above at Mirador del Rio.
Here is a small
photo gallery from La Graciosa
.
Only a single little village - Caleta - with a small port, provides evidence of civilization, aside from one further small settlement in the far north of the island. But this settlement is no longer inhabited and there are many mysteries and stories around.
From Orzola you can reach the port of Caleta with El Graciosero, the Gracioseros" little ferry. There you will find three small restaurants/bars where you can eat. Furthermore, one can rent bicycles in the village or else one can hire one of the cowboys who know every nook and cranny on the island and who take you there in their ancient Toyota cross-country vehicles.
They can take you to one of the gorgeous beaches and also pick you up reliably on time. Among the many enchanting beaches, we should mention Playa Francesca in the far south. Here, there are less waves and very clear and warm water.
La Graciosa on foot is a whole different adventure, but one that is very cherished by those who are enamored by this little island. There is also a small campground, directly south of Caleta. There are also a few apartments for rent in the village. Everything can be organized on location - but there is one thing that one should not forget: to return to civilization, even if it is difficult to do so after such a visit.
Information Lanzarote: