Beaches Northeast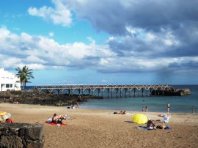 Playa la Garita, Arrieta
In the bay of Arrieta there is Playa la Garita, with a beach kiosk and sanitary facilities. This is one of the most popular beaches on the island outside of the touristy areas, and Arrieta itself is a very beautiful little village. Here you will find a small
photo gallery from Arrieta
.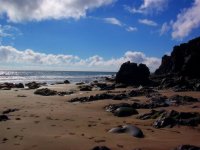 Playa Marina
Playa Marina is a small beach, located between Mala and Arrieta. For unknown reasons it sometimes has sand (as on our photo) and sometimes not. Here, a special feature is the caves that surround the beach. Usually, one has the beach to oneself.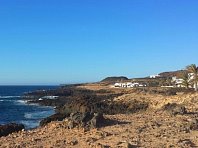 Charco del Palo
Charco del Palo is a small naturist settlement close to Mala. Here, there is no sandy beach, but there are many good opportunities to enter the water. It is the only official nude beach on the island. You will find further information
here
and in our
photo gallery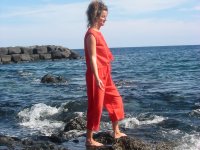 Los Cocoteros
Los Crocoteros is a small village located on the coast at the height of Guatiza. Here, there are two very beautiful places to go bathing: first, there is a tidal pool next to the settlement, and then close by there is a small, protected beach, which is very nicely arranged and is also clean.
Information Lanzarote: